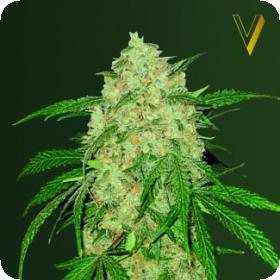 Bubblegum + Pro Feminised Seeds
Bubblegum is a medium plant that produces compact, crystal coated buds. This strain was originally developed in Indiana and then moved through New England to Holland.
After a long period of hard work this strain was finally created. It has all of the classic bubblegum sweetness and the flavour is absolutely mouth watering.
The high is extremely uplifting and euphoric making it a perfect strain for those suffering from depression or anxiety.
This strain is feminised and will only grow into female seeds. Feminised seeds are perfect for growers who don't need the male plants for breeding.
Male plants take up half of a regular crop and can harm the female seeds during the flowering process and have to be removed. This is a huge waste of time, money and energy that would be much better used on the female plants.
Feminised seeds also tend to be higher in quality and uniformity than regular seeds. For this reason some breeders also prefer to use feminised plants, even though feminised breeding is really difficult.
This strain has a flowering time of 8 – 9 weeks and can be grown indoors or outdoors.
Remember that the cultivation of cannabis seeds is illegal in some countries, please check the laws of your country before attempting to cultivate cannabis seeds.