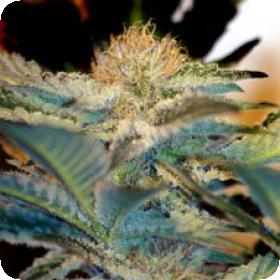 Mohan Ram Feminised Seeds
This spectacular strain was born from the marriage of two rather exceptional strains, White Widow and S.A.D (Sweet Afghani Delicious). White Widow is among the most famous strains currently available on the market.
It was created in the 1990s in the Netherlands and has been stocked in all of the major Dutch coffee shops since. It is a powerful and energetic plant with a fresh, floral aroma which compliments the S.A.D perfectly.
S.A.D is another extremely popular strain which was born in 1998 and became an instant favourite in the cannabis community. It is best known for its extremely dense and musky aroma.
The result of the combination of these two super strains is an energetic and flavoursome plant with an extremely high resin content and a strong, lasting effect. Mohan Ram is relatively easy to cultivate especially in this feminised form.
The concept of feminising seeds came about in the 1990s and was introduced by the Dutch Passion seed company. Since then almost all breeders have taken on this method of seed production as they became immediately popular among growers all over the world.
Feminised seeds simply grow into female plants, eliminating the issue of male plants. Before feminised seeds growers would have to grow twice as many plants to reach the same yield, now a grower can simply purchase and grow as many seeds as the desired number of female plants.
They have also been proven to have a higher level of uniformity and quality than other plants, increasing the potency of 80% of current strains. For breeders who want consistently feminised crops females can be bred with females to create feminised seeds.
This process, convincing the females to create their female pollen, is a difficult one and should only be undertaken by expert breeders.
This strain can be grown indoors or outdoors, its indoor yield is around 400 - 500 g/m2 and the outdoor yield around 350 - 550 g/plant. Its growing time is 8 weeks and it should be harvested at the end of September.
Please remember that the growing of cannabis plants and the cultivation of seeds is illegal in some countries - please check the laws of your country and don't be growing any plants if it is against your country's laws