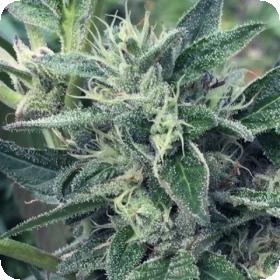 Lost Coast x SCBDX Feminised Seeds
Lost Coast x SCBDX is an amazing OG strain with high CBD production and an amazing yield. The Lost Coast is a combination of Lemon Thai and Pakistani Kush that made its way to California about 40 years ago.
Its flavour and effect is extremely unique, a delightful mix of lemon and citrus with  a lovely happy high. It is high CBD which means it is a great medicinal strain that will help with a wide range of ailments.
This strain is sativa dominant so takes a little longer to grow, but it is well worth waiting for. 
This strain is feminised and will only grow into female plants. Feminised seeds are great for growers who don't plan on breeding their own crops. For these growers the male plants are a complete waste of time, money and energy.
They take up around half of a regular crop and have to be thrown away before they can harm the female plants. Feminised seeds also tend to be higher in quality and uniformity than regular seeds.
Some breeders also prefer to use them, but feminised breeding is very difficult. In order to produce feminised pollen, the female plants have to be stressed in a very specific way. This means that only experienced breeders should attempt feminised breeding. 
This strain can be grown indoors, outdoors or in a greenhouse and has a flowering time of 60 – 65 days. 
Remember that the cultivation of cannabis seeds is illegal in some countries, please check the laws of your country before attempting to cultivate cannabis seeds.