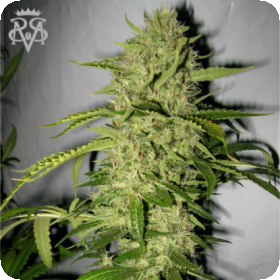 Psycho Crack Feminised Seeds
SickMeds Seeds Psycho Crack Feminised
Psycho Crack may have a bit of a dubious moniker but it is one strain that needs to be experienced to be believed. For starters, these parents literally crossed an ocean to be together.
From the UK, there are the elite genetics of Psychosis. From the U.S. there's the best of Green Crack. But it gets even better - until now, both of these strains have only been available in clone form but through the ingenuity of the breeders at SickMeds you can now experience all the best qualities of both in seed form.
To make it better still, these seeds are feminised and easy to handle so even a novice grower will have success in cultivating them. Both parent strains are known for producing a dank and heavily aromatic end product.
The plants themselves have multiple lateral branches making a bit of horizontal space necessary in the growing environment. For indoor growers this means having enough floor space to ensure that all parts of the plant get an even distribution of light.
For outdoor growers it means having enough space to let them really stretch (because they WILL). Indoor growers should also be aware that the smell of these plants is rich and unmistakable. Good ventilation and filtration will be absolutely necessary for indoor setups.
They not at all discreet outdoors either so plant them far away from inquisitive neighbours. The plants finish after just about 65 days and can yield as much as 500 g per square metre.
The flavour of the smoke takes quite a bit from the Green Crack side of the equation but the effect leans more toward that of Psychosis. This is not a beginner's smoke but the true cannabis connoisseur will be