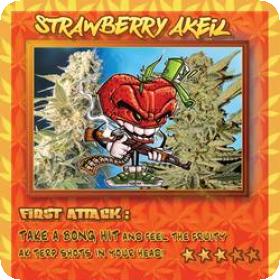 Strawberry Akeil Feminised Seeds
Strawberry Akeil is asativa-dominant hybrid strain of F1. It was bred from the mother of AK47 and the father of Bubble Gum and underwent strict selection criteria before it was made available.
Great fruity scent with lashings if the trichoims are resin-producing.
Strawberry Akeil was named after the German rapper King Keil (mile rhymes) who both lent
his name to this new strain but also had some input after testing a few phenos.
The potency and resin of the Ak-47 were successfully combined with the fruity strawberry character of the Bubble Gum.
This is a medium-sized plant with a profusion of budding sites.
For best yields, it is recommended to allow 4-5 weeks of vegetative growth indoors before the flowering phase takes another 8-9 weeks.
The indoor yield is expected to be between 400-500 gr/m2.
Plants grown outdoors in fresh air will be read in the first half of October in the northern latitudes.
The effect is creative and uplifting, resulting in a much more physically relaxing state. It is therapeutically well suited for those suffering from chronic pain and is also effective in helping to calm anxiety and to get a good night's sleep.