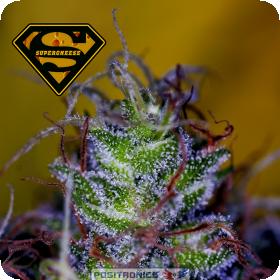 Supercheese Feminised Seeds
Positronic Seeds has produced its own commercial version of the original iconic cheese, now available in a super-reliable, feminised seed form. Everything great about the original is intact from its signature flavour to its permeating aroma of stinky old cheese.
These plants are easy to grow and make a great choice for new growers. The only trouble is that novices could become quickly spoiled by the ease of cultivation and the early introduction to such a great strain.
Cheese is not only hard to beat, it's also difficult to get away from - so many great hybrids have cheese genetics that chances are it will be very familiar just opening up the bag.
The plants grow strong with a thick central stem and a classic christmas tree shape. The plants grow to a short to medium height and have been recommended by growers as a good strain for indoor cultivating in particular.
They respond really well to a bunch of different methods and the yields are great - about 300-400 g per plant. It might not sound like that much but, given the size of the plants, it is singularly impressive.
The leaves are tiny and grow in direct contrast to the big, thick, delicious buds. The shimmery white resin only adds to the allure.
Outdoor plants grow and produce comparably to indoor ones, so it really comes down to preference. They resist mould and fungi quite well and stand up to fluctuations in nighttime temperatures. They also flower a little late so harvesting should begin around mid-October.
The effect of Supercheese is both relaxing and uplifting. The THC content is high. CBD content is low. Even so, this strain has been touted as a good medical strain, particularly for physical symptoms like joint and muscle pain, nausea, and migraine.