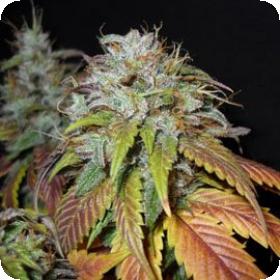 Swiss Cheese Feminised Seeds
Swiss Cheese is a hybrid cross between Swiss Miss, originally developed by Nirvana Seeds crossed with a select Skunk #1 pheno chosen for its superior genetic expressions. If it has a particular air of mystery, chances are it's because of its history. That Skunk #1 that was so sought after was actually smuggled from the UK into Amsterdam back in 2007. The magic was born there and has continued to this day with these seeds now available to perpetuate this quality line indefinitely.
This strain has a real "old school" Skunk flavour and a well-balanced indica/sativa effect. The smell is a dank mix between classic skunk and sharp provolone cheese. Yes, it's stinky but does it ever make a great smoke!
The plants are particularly resistant to mould and fungus making Swiss Cheese a great choice for outdoor growing in areas that are distinctly damp or humid. They also stand up well to temperature fluctuations but should not be exposed to frost. In the Northern hemisphere, it is advisable to bring these plants in around the first or second week of October.
Indoor grow methods all work well with Swiss Cheese, too. The plants are a little branchy but don't tend to overshadow each other under the lights. These plants like a balanced 12/12 light cycle throughout the flowering phase. Indoor yields routinely top 400-500 g per square metre.
These seeds are a great choice for any grower who is looking for an easy-to-grow variety. Feminised plants are by definition easier to handle and they are subsequently popular with novice growers.
Don't miss out on the chance to experience this true labour of love and commitment to delivering the best that modern hybrids have to offer. This is a must-try for any die-hard Skunk fan.