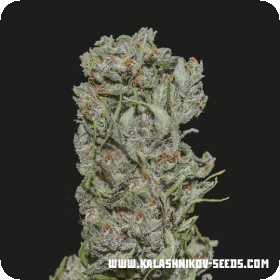 White Critical Express Feminised Seeds
secret hybrid. It is an extremely compact and fast flowering plant that makes life easier for growers everywhere. It is the ideal size for indoor growing whilst also giving a decent yield. Indoors it can produce 450 - 600 g/m2 and outdoors an amazing 600 - 900 g/plant.
It has a THC level of 21% which gives it a powerful effect. It is a balanced effect which makes it ideal for all types of growers.
This strain is also feminised, which means that it will only grow into female plants. Feminised plants make life easier for growers by removing the whole issue of the male plants.
The males would normally take up a huge amount of space, that could be better used by the females, and are a total waste of money.
For the same price a grower can get twice the productive female plants with none of the fuss. Feminised seeds also tend to be higher in quality and uniformity.
This means that they are also sometimes used by breeders, but feminised breeding is very difficult and should only be attempted by experienced breeders.
This strain only needs 45 - 48 days to flower and can be grown indoors or outdoors.
Remember that the cultivation of cannabis seeds is illegal in some countries, please check the laws of your country before attempting to cultivate cannabis seeds.
Genetics:
White Widow x Critical Mass x Secret Hybrid