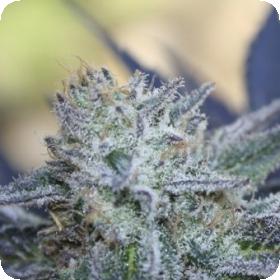 Washing Machine Feminised Seeds
This strain is a combination of the classic UK Cheese and Bubba Kush, two amazing strains. The result is a trichome factory with an amazing scent that is a mix of soil and licorice.
This strain is extremely potent and is definitely recommended for more experienced smokers. Washing Machine is fast flowering, due to its short vegetative cycle, and can double its height during the flowering period.
The flowers are a beautiful purple colour which looks amazing when juxtaposed with the covering of bright white resin.
Washing Machine is a feminised strain, making it ideal for growers. Most growers can't be bothered with the male plants that take up half of a regular crop.
They take up valuable resources such as time, space and money that would be much better used on the female plants. Feminised seeds are also higher in quality and uniformity than regular seeds.
For this reason some breeders also prefer to use them, however feminised breeding can be tricky. The female has to be stressed in such a way that they will produce feminised pollen, which can be used to fertilise another female plant.
This should only be attempted by experienced growers.
This strain has a flowering time of 60 – 65 days and can be grown indoors or outdoors.