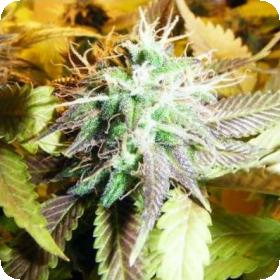 Aurora Indica Feminised Seeds
Aurora Indica is an F1 hybrid of Afghan and Northern Lights, two extremely popular sets of genes, the first, one of the purest landraces around and the second, a multi award winner known for its strong Indica properties.
It is said that Aurora Indica is perhaps one of the strongest Indicas on the market, producing dense buds and remarkable amounts of resin, resulting in a deep strong aroma and flavour and a heavy indica effect.
This strain's great pedigree and outstanding effects make it an extremely desirable addition to any collection.
Aurora Indica is a feminised seed, meaning it has been genetically altered to make a much easier and generally much more user-friendly variety.
Most growers have little to no use for the male plants produced by regular seeds, as they are not a requirement when growing only that same strain alone.
The grower would end up having to throw away a lot of the males produced, causing a lot of time, money and resources to be wasted.
With a feminised seed this problem is eliminated and if an experienced breeder were looking the creation another crop from a feminised seed, it can actually be done using only the females.
The process may be more complicated, but it does mean that the resulting offspring are much more uniform in quality, so the grower will have a better idea of the quality of crop produced.
The saving of time, money and space is what makes feminised seeds such a popular option among growers.
The flowering period for this strain is around 7 to 9 weeks generally. A grower could expect a yield of approximately 400-500 grams per square meter.