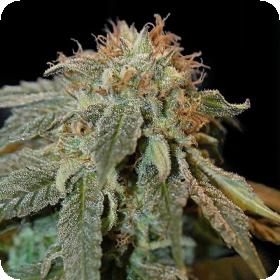 Haoma is one of the finest strains available from House of the Great Gardener. It is a cross between two classic strains, Purps and GG #1. Purps, otherwise known as Mendocino Purps or Mendo Purps comes from Mendocino County in Northern California.
It won one of the top ten slots in the High Times Cannabis Cup Strains of the Year in 2007.
It started life as a clone only plant but a stable cross was developed in order to make the strain available to the public. It has thick leaves which turn from green to purple as the plant ripens, its flavour is similar to caramel coffee and its scent like that of pine trees.
GG #1 is used as a base in a number of strains as it is derived from the classic Afghani #1 strain. This strain is said to have been extracted from an area which grows some of the finest and oldest strains in existence.
GG #1 is best known for its amazing pain-relieving properties which makes it House of the Great Gardener's favourite medicinal strain. The combination of these strains created Haoma which has been extremely popular since its conception.
It is an early flowering plant with a fruity scent.
This strain can be purchased either in its regular form or in its feminised form, these seeds are feminised. Feminised seeds will only grow into female plants which is ideal for growers who don't plan on breeding.
For these growers regular seeds are simply a waste of time and money. The male plants have to be removed at the start of the flowering process in case they harm the female plants.
This means that, usually, half of the crop would be wasted and so would half of the money that the grower spent on them. Purchasing feminised seeds is not only more cost effective but it is also a sounder investment.
Feminised seeds have an over all higher rate of quality and uniformity than regular seeds. In fact 80% of strains which have been feminised have shown marked improvement in both areas.
Haoma can be grown inside or outside which makes it ideal for all types of growers and breeders. It has a flowering time of 7 - 8 weeks and has medium to high THC content.