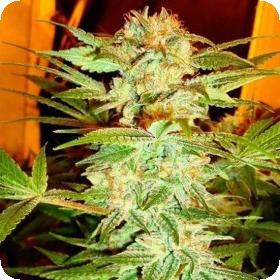 Stacked Kush Feminised Seeds
Stacked Kush is the product of a en expert cross between two great strains: Sleestack and OG #18. The latter has been used before by this breeder and the results are always favourable. The OG has a tendency to really enhance the qualities of the other parent while bringing its own unique attributes to the table.
The effect is one of a very well-balanced hybrid. It goes just enough to one's head to create a stimulating buzz but also works its magic throughout the body to create a purely mellow high.
This strain has been cited by a number of medical marijuana patients as being excellent therapy for emotional issues like anxiety and depression.
It has virtually no negative side effects and does not induce paranoia (based on reports from a majority of users). In short, this is some very good-quality stuff and it serves well the dual purpose of an effective medicine and a fun, social, recreational kind of strain.
Since we mentioned the medical uses of Stacked Kush it is also important to note that the breeder has not released any information regarding the CBD content of the strain. Based on its effects, it is likely not a 1:1 balance that many medical users look for.
Indoor growing methods of all description will work just fine with these plant. They grow to a medium height and feature a short flower period of just 8-9 weeks on average. Indoor growers can expect to reap harvests topping 400 g per square metre.
Some plants will yield even more pushing that number closer to 500. Outdoor plants should be harvested by sometime in October in the Northern Hemisphere and will yield in comparable amounts to their indoor counterparts.
These plants are easy to grow and are highly recommended for novice growers.