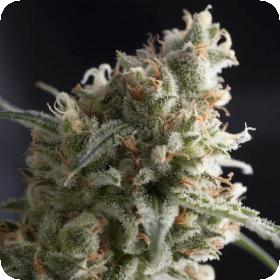 Lennon by Pyramid Seeds that promotes peace and harmony, much like its name sake. This strain is especially tempting for those who are fans of Jack Herer strains, or super into Haze strains.
It is an intense Sativa dominant plant with high THC levels and great yields. This strain is really aimed at more experienced growers since its feeding needs are a little more complex than some plants. Lennon will grow large, gorgeous buds completely covered with a glittering layer of resin. Over all this is truly a strain for the serious collectors and growers out there.
Lennon can be purchased in its feminised form so that it will grow into purely female plants but will require a full light cycle to flower properly. Feminised seeds will usually turn into high quality, uniform plants. They are ideal for those who don't plant on using the male plants for breeding, for these growers the males are simply a waste of time, money and effort.
This strain has a flowering time of 75 - 85 days, should be harvested in October and gives a yield of around 550 g/m2.