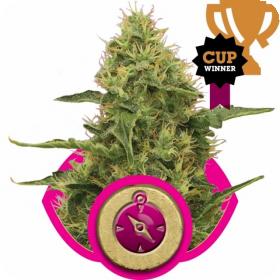 Northern Light Feminised Seeds
There are those strains that have truly made their mark on cannabis genetics and hybridization projects.
Anyone who is even remotely familiar with cannabis cultivation will agree that Northern Lights is one of them - in fact, there are few other strains that have its reputation or record for contributing to high-quality varieties that appeal to every taste.
It has dominant indica characteristics in its effect, but it has the look of a classic sativa.
Northern Lights hails from America's west coast. It is the genetic product of eleven varieties of seeds, each of which were bred, inbred and hybridised so many times over the years, its exact genetics are a bit of a mystery.
One thing is certain about Northern Lights, though: it is the foundation of some of the best cannabis in the world.
Legend has it that Northern Lights was originally an Afghani indica. It is also believed that some of the original plants were Thai or possessed dominant Thai genetics.
The plants grow to just over 3 feet tall on average when grown indoors. Outdoors, they stretch a bit more and can grow nearly twice as high. When the plants flower, the Afghan genetics really show themselves with the development of dense, resinous buds all over.
They also develop one massive main cola.
Yields for Royal Queen Northern Lights Feminised fall into the 500 g per square metre range under 600w light. When growing outdoors, yields can be even greater, given the larger size of the plant, but success in cultivation is contingent on climate.
These seeds require consistent warmth and a majority of days of bright sunshine. Given those conditions, coupled with ample nutrition and irrigation, it will grow into a massive, vibrant plant with unbelievably high yields.
The plants finish after about 7 weeks but increase in potency and quality when left for 8.
Royal Queen Seeds has taken the classic, somewhat mysterious, Northern Light seed and brought it into the modern day. There is not another strain that has such a rich history as the Northern Light.
It's thought to have come out of west America but after decades of breeder, mixing, and crossing, its exact genetic makeup is unknown.
Some say that it originated from an Indica plant in Afghanistan and this Royal Queen Seeds variety retains that Indica dominance, although in its leaf structure Sativa can be seen.
When allowed flourishing outdoors in warm sunny climates such as those of North Africa, it can reach over 2 metres in height, with wide internode spacing and long thin leaves.
After flowering there will be dense, resin full nuggets, all over the plant as well as a giant main cola. With enough food and water it will even grow into a tree, producing a huge yield.
After a flowering time of 7-8 weeks a yield of 575-625gr per plant dried can be achieved, even indoors Northern Light will grow to over 1 metre and produce a yield of 500-550gr m2.
Royal Queen Seeds has feminised Northern Light, which makes it even more special. With regular seeds the ratio of males and females is usually around 50/50, but with feminised chances are that all of the seeds with be female.
The reason that this is advantageous is that the males don't really serve any useful purpose as it is the females which are used for cultivation.
Even if a person wished to breed their own crop the males are not strictly speaking necessary as the females can be coaxed into producing the pollen that is needed for reproduction.
Although this is a rather difficult process, one which only the most experienced breeders are likely to be successful in, if it is achieved the level of uniformity and genetic purity of the future crop will be vastly superior to the batch that would have both a male and female parent plant.
Please remember that the growing of cannabis plants and the cultivation of seeds is illegal in some countries - please check the laws of your country and don't be growing any plants if it is against your country's laws.
Genetics:
Northern Light S1 (Afghan x Thai)