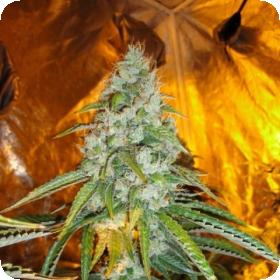 Original Sour Diesel Feminised Seeds
This is yet another wonderful strain from the fine breeders at Cali Connection.
Original Sour Diesel is one of the most popular and highly thought of strains around. This particular strain was created by combining Sour OG with the Original Sour Diesel clone in order to create their Sour Diesel line.
This strain is extremely resinous and has a very uniform structure which is extremely reminiscent of the mother plant. The odour can become a little much and so much be controlled and contained during the growing period. It branches extremely well and is over all a wonderful seed for growing and for cloning.
It is also perfect for those who prefer a plant with a large yield. This is a precursor to ECSD and many of the other current Sour Diesel strain. It was the first to make what is now known as Sour Diesel by all those who love the strain.
This is a powerful plant and has an extremely intense effect, it is not for the faint of heart.
This strain can be purchased in its feminised or its regular form. These seeds are feminised which means they will only grow into female plants. These seeds are exceptionally popular amongst growers as they remove the issue of the male plants. The males can cause a lot of issues during the flowering process which is why many growers prefer to use feminised seeds. They are also of a generally higher level of quality and uniformity than regular seeds.
Sour Diesel can be grown indoors and outdoors making it ideal for all sorts of growers, it has a flowering time of 9 - 10 weeks.
Genetics:
Sour Og male x Original Sour Diesel clone