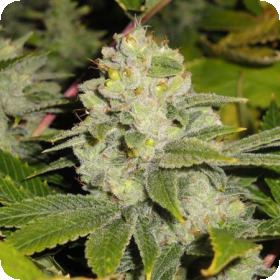 Deadhead OG Feminised Seeds
This strain comes from the original and infamous 91 Chemdawg otherwise known as Skunk VA. This is a part of the only Chemdawg cutting that was released. It has been bred with the equally famous SFV OGK F4 Male to create a truly impressive plant.
This strain was created by the creator of many other famous strains including OG Kush, Sour Diesel and many more. This strain is a Sativa Indica split and grows somewhat like a miniature Christmas tree with impressive side branches and dense buds.
Its yield has not been officially recorded but thus far all have been in the higher end of the spectrum. Deadhead OG has a deliciously lemony scent with just a hint of that ever popular skunk funk thrown in.
This strain can be purchased in its feminised form, a type of seed that has been altered in order to make it more user-friendly. The primary alteration for these seeds is the fact that they will only grow into female plants.
Most growers, who are not planning on breeding, find the male plants to be nothing but a nuisance. They have to be removed before the flowering period in order to ensure that the females are not harmed by them.
If the male pollen reaches the female buds they will turn to seeds and destroy the harvest. Since around half of a regular crop is made up of males removing them will be a waste of time, money and effort.
Feminised seeds can also be used by more experienced breeders. Female plants can be stressed in such a way that they will release a feminised pollen.
This pollen will then fertilise another female and create feminised seeds. Even though this method is tricky the resulting seeds will be of a higher level of quality and uniformity than regular seeds.
This strain has a flowering time of just 8 weeks and can be grown indoors, outdoors or in a greenhouse.