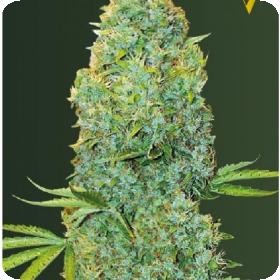 Amnesia Haze Auto Feminised Seeds
The Amnesia Haze Automatic is the culmination of years of breeding. 
The main disadvantage of Sativa strains like Amnesia is that they can take a long time to flower, 12 weeks on average, but certain phenotypes might take up to 20 weeks. 
She can also grow rather tall, which can be a problem for those with limited room. 
The same euphoric sensation and spicy, sweet taste like the original Amnesia, but with a considerably shorter growth time and height. 
Indoors, she will take about 80 days to mature from seed to bud. She can grow fairly huge during this time, especially when compared to other autoflowering breeds. 
Tall plants, huge thin leaves, and long extending buds are unmistakable indications of her Sativa dominant genetics. 
The Amnesia Haze Automatic is a robust plant that can reach heights of 80-150 cm. 
This huge Sativa dominant autoflowering strain, like the original Amnesia, produces abundant amounts of good quality hazy buds. 
After 80 days of growth and flowering, you should get a respectable yield of roughly 40 grammes on average and up to 150 grammes under perfect conditions. 
She produces long, foxtail-like buds with a sweet, spicy, and smoky scent. 
Overall, she exudes the characteristic Amnesia aroma, flavour, and effect. 
The Amnesia Haze Automatic is the ideal autoflowering strain for Haze fans.