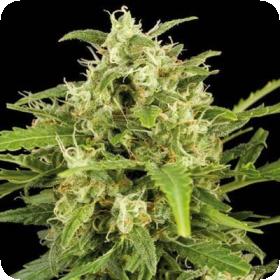 Critical Mass Auto Feminised Seeds
Developed by its expert hybridization team in Spain, some say Critical Mass Automatic is the perfect hybrid: Big Buddha's Critical Mass and their signature Automatic.
The end result is this amazing auto-feminised variety that is sure to please in both its ease of cultivation and its superior yield. It is the epitome of Big Buddha's "Throw it and Grow It" philosophy making it an exceptional choice for growers who champion instant gratification.
"Big and fast" appropriately describes what these seeds provide: 65-80 days' flowering time and Critical Mass Automatic is good to go. That is the fast part. The plants grow huge and stretch to produce an unbelievable number of flowers and sticky, resinous buds.
That is the big part. The end result is an indica-dominant and exceptionally potent high.
Critical Mass Automatic responds well to all common growing methods, both indoors and outdoors, using soil, potting and hydroponic methods. The plants will, however require a bit of room to achieve maximum yield.
The plants are reasonably short and stout, like an average indica, making them suitable for growing in limited vertical space.
This strain really lives up to its name so be prepared for a heavy, long-lasting couch-locked stone. Critical Mass is an excellent cannabis variety for medical marijuana users, particularly those who suffer from muscle pain, migraines or insomnia.
The aroma of Critical Mass is very sharp, woody and tobacco-like. The flavour is spicy and hashy with a deep, roasted fruity undertone.
New to growing cannabis? Critical Mass is a great place to start. Auto-feminised seeds practically grow themselves making it easy to enjoy early success with yields that are out of this world.
They provide novice growers with the perfect opportunity to develop confidence and sharpen their growing skills while also being able to really enjoy the fruits of their labour.
Please remember that the growing of cannabis plants and the cultivation of seeds is illegal in some countries - please check the laws of your country and don't be growing any plants if it is against your country's laws.
 
Genetics:
Critical Mass X reversed Big Buddhas' Automatic