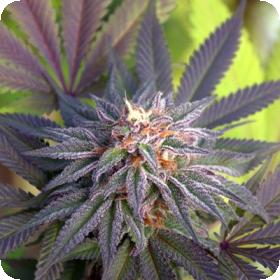 Grand Poohbah Regular Seeds
This strain from Norstar genetics is unrivaled in power, flavour and beauty. It gets the name Grand Poohbah from its general air of luxury. Its flavours are creamy and rich with a delightfully blended mix of aromas.
The effect is indica heavy and decadently relaxing with a powerful intoxication that will leave users in a haze of silky smoke. Basically this is a strain for those growers and breeders who just feel like getting themselves a naughty little treat.
Grand Poohbah is a regular strain, which means that it will grow into a combination of male and female plants. Most breeders and old school growers still much prefer regular seeds for their simplicity and predictability.
Where breeders are concerned regular seeds definitely provide the easiest method of seed production. The split of male and female plants is roughly even, which means they have plenty of choice when it comes to selecting the parents of the next crop.
Regular seeds are also photoperiod which means they require a light cycle in order to flower.
This strain can be grown indoors or outdoors and has a flowering time of 8 weeks.
Remember that the cultivation of cannabis seeds is illegal in some countries, please check the laws of your country before attempting to cultivate cannabis seeds.
Genetics:
Bubba Kush x Purple Mayhem