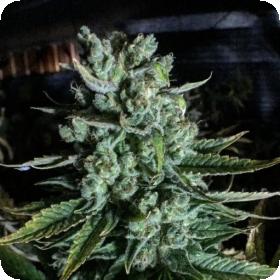 This cross between Sour Diesel and Pink 2.0 has quickly made a name for itself with its impressive THC levels. Boom Boom is capable of reaching up to 25.2% THC and an extremely impressive 30.3% cannabinoids, making it a wonderful strain for medicinal users. This strain gives impressive yields and is relatively easy to grow, especially in warmer climates.
It is a dense plant that produces high amounts of resin and a relaxed yet stimulating effect. This strain has been recommended for use by those suffering from migraines and arthritis.
Boom Boom is a regular strain, which means that it will grow into a combination of male and female plants. It also means that the plants will require a light cycle in order to flower. Breeders tend to use regular plants as the roughly even split of males and females makes for stress free breeding.
By selecting the very best male and the best female the breeder can ensure the quality of their future crop. Regular seeds are also often used by activists in attempts to reintroduce cannabis into its natural habitat.
This strain can be grown indoors, outdoors or in a greenhouse and has a flowering time of 56 - 63 days.
Remember that the cultivation of cannabis seeds is illegal in some countries, please check the laws of your country before attempting to cultivate cannabis seeds.