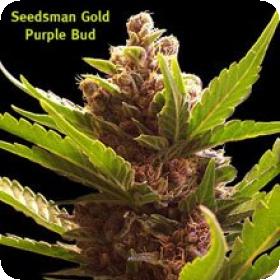 The Pacific Northwest of the United States is home to an eclectic mix of curiously coloured cannabis strains. Among them is Purple Bud - a distinctly purple cannabis that hails Oregon.
This is just one in a line of regal purple plants that includes Purple Oregon Sativa and Purple Akala.
All of these strains get at least some of their genetics from one or more Purple Skunk varieties and are part of the "purple family" of cannabis strains that includes varieties with any touch of red. This includes violet, purple and even pink.
The colour of Purple Bud is also a brilliant showcase for its overtly sweet flavour. The climate conditions in the Pacific Northwest keep these colours brilliant and rich right up to the point of harvest.
The closest comparison that can be made to Purple Bud is Skunk #1. Its characteristics mimic Skunk #1 in almost every way including genetics, growth patterns, flavour and effect.
It has a strong odour but it is more pleasing than Skunk with hints of floral and tropical fruit mixed with the musky Skunk aroma that is typical to those strains. THC content is high making it a particularly potent sativa that delivers a head-filling yet invigorating high.
These plants have a tendency to grow tall and branchy. They are well-suited for outdoor growing and stand up well to fluctuations in temperature.
Their genetics do make them susceptible to mould and fungus, so care should be taken when growing particularly humid environments. They grow well indoors as well, but a bit of vertical space will be necessary.
Soil and potting work best, but hydro methods do work well also. Flowering time is just 9 weeks on average and yields are typical among most common sativa-dominant varieties.
Please remember that the growing of cannabis plants and the cultivation of seeds is illegal in some countries - please check the laws of your country and don't be growing any plants if it is against your country's laws.