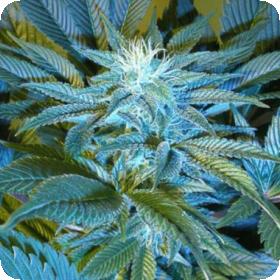 It has been heralded as one of the best strains out there for making Hashish and with its 100% indica genetics alone, it is easy to see why so many shares this view.
The appeal is heightened by its parentage of Chitral Kush and Moroccan Arabene - both strains popular for hash-making in their own rights.
The plants grown from these seeds produce buds that are small but very tight, almost rock-hard, and covered in glistening resin when fully mature. The buds will become very sticky over time and this will bring with it the need for ample ventilation to avoid mould and fungus.
Humidity levels also need to be balanced for the same reasons. Growing in tight spaces like closets is not recommended for this strain but the plants are small and compact enough to allow growing several in a relatively small area.
Given adequate light and airflow, Sandstorm will reward the grower by being otherwise low-maintenance and easy to handle.
Another consideration for indoor growers is the permeating aroma that these plants emit. This is yet another argument for good ventilation.
The smell is pleasant but it also unmistakably identifies the crop. From germination, it takes about 30 days for Sandstorm to move from vegetative to flowering but after that point you can practically watch it grow.
The plants will produce extremely well and leave growers with enough cured end product to last a good long time. The dried buds also have a respectable shelf life. Total flowering time is 55-65 days and outdoor growers should plan to harvest by mid-October.
Medical users will appreciate the effects of Sandstorm. It is an excellent strain for treating insomnia and anxiety. It has a high THC concentration but produces a peaceful, mellow kind of stone without side effects. The taste is very pleasing as well.
Please remember that the growing of cannabis plants and the cultivation of seeds is illegal in some countries - please check the laws of your country and don't be growing any plants if it is against your country's laws.