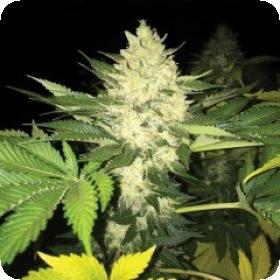 This strain has been around since 1995 and was created on the roof of the C.I.A. (Cannabis In Amsterdam). This strain is a legend in its own right with its fantastic flowering time and powerful effect.
This strain came from the original S.A.G.E project and was on the "Afghanica" side of the S.A.G.E genetics. This strain is a short, fat plant with an extremely high production of resin as well as a powerful effect.
This strain is thought of as a real work of art and deserves pride of place in the Cannabis hall of fame. 
Roof 95 is a feminised strain that will only grow into female plants. Feminised strains are great for growers who don't plan on breeding their own crops. For these growers the male plants are a huge waste of resources.
They have to be removed before they can harm the female plants, and since they take up half of a regular crop this is a massive waste of money. Most growers would rather spend the same amount of money on twice the number of productive female plants.
Feminised seeds also tend to be higher in quality and uniformity than regular seeds. 
This strain can be grown indoors or outdoors and has a flowering time of 50 – 65 days. 
Remember that the cultivation of cannabis seeds is illegal in some countries, please check the laws of your country before attempting to cultivate cannabis seeds.