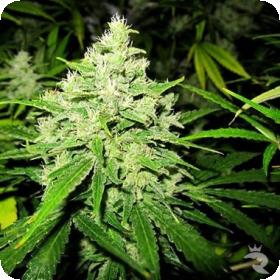 Medical Seeds Prozack feminised is a plant that grows bushy but compact, making it a great strain for indoor growing. Adding to its appeal, Prozack tends to stay relatively short, even outdoors making it an inconspicuous addition to your outdoor garden. The smell is unassuming as well. So far we can't see any negatives here...
The good news just keeps getting better, too. Prozack has a relatively short flower period as well. At only about 75 days for maximum quality, it doesn't even keep the grower waiting. After 75 days, the THC content reaches high levels, so its effect is somewhat moderate yet long-lasting.
Being the child of two strains like Lavender and Kush, it is mostly indica and the effect mirrors the genetics well. This is advantageous for medical users since the effect is not overwhelming, rather just relaxing and medicinal. It works well on every symptom commonly associated with medical marijuana.
Indoor plants work well in a variety of setups and are small enough to be able to grow a lot in a small space. Their compact nature makes them easy to light consistently and completely and they behave like any normal cannabis plant, flowering in step with changes in light cycles. 18/6 during vegetation and 12/12 during the flower period will work best.
Outdoors the plants grow in a comparable way. They do not grow significantly larger but they can produce in higher numbers. The average indoor plant yields about 450 g per square metre while outdoors the yields can be as much as 500 g per individual plant.
These feminised seeds are very easy to manage and they present a good stepping-off point for anyone just beginning as a cannabis grower. They are also a great choice for experienced growers who want a stain that they can grow in large quantities in small spaces.