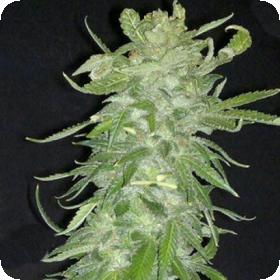 Cristal Paradise Feminised Seeds
KC Brains Cristal Paradise Feminised is a stable hybrid cross between two very popular strains of cannabis: Californian Big Bud Skunk and Brasil. The resulting strain possesses the best qualities offered by both of its iconic parents.
Cristal Paradise is an extremely potent cannabis variety that bears Big Bud's impressive growth and massive yields.
The Brasilian genetics reinforce Cristal Paradise's ability to resist mould, pests, and fungi. The plants grow tall and leafy with a look that is classically indica.
The plants finish within 8 to 11 weeks and rewards the grower with buds so big they make the trunks bend under their weight. Yields top 120g per square metre for indoor plants and as much as 600 to 800 g per outdoor plant on average.
Many cannabis growers report that Cristal Paradise is a genetically superior variety that stands up well to a broad range of growing conditions.
It adapts well to nearly any weather condition short of freezing temperatures or frost. When grown outdoors, the plants can grow as tall as 2.5 metres. Indoors, the plant size remains manageable at about 130 cm on average.
They are well-suited for potting, soil, and hydro grow setups.
The plants develop and increasingly intense orangey sweet, slightly hashy aroma once they enter their flowering stage with other tropical and floral notes added to the mix.
They develop a sturdy central stem but even with those genetics the buds can grow so large that they compromise their structural integrity.
Growers find that some of these plants need to be staked to keep them from falling over. It is advisable not to be lax with this part of their care as letting them go too long could cause the stems to snap.
Yes, they produce THAT much quality bud! Those sticky buds become covered with delicious, THC-rich resin with high THC content.
Genetics:
Californian Big Bud Skunk x Brazil