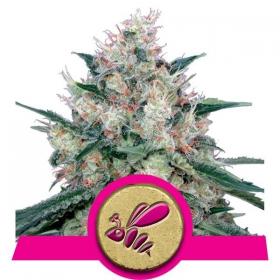 Honey Cream FAST Version Feminised Seeds
Honey Cream Fast Version was once Royal Caramel, but now it has a new and improved name to match its new and improved nature.
This strain now has a much shorter flowering period, better yields, and a higher potency. Honey Cream is a combination of BlueBlack, White Rhino and Maple Leaf Indica.
This strain receives its name from the intense scent of caramel which bleeds into its sweet flavour. This strain has a THC level of 16% but surprisingly has a pretty intense psychedelic effect.
Honey Cream is also super relaxing and makes an excellent painkiller, ideal for those looking for something medicinal.
This strain is feminised and will only grow into female plants. This is a blessing for growers who don't plan on breeding their own crops.
For these growers the male plants can cause a whole host of problems during the flowering process. This means that they have to be removed, which is a huge waste of valuable time and money.
Feminised seeds also tend to be higher in quality and uniformity than regular seeds. For this reason some breeders also prefer to use them.
Even though feminised breeding is considerably more difficult than regular breeding, and should only be attempted by experienced breeders.
This strain can be grown indoors or outdoors and has a flowering time of 8 – 9 weeks.
Genetics:
BlueBlack x Maple Leaf Indica x White Rhino