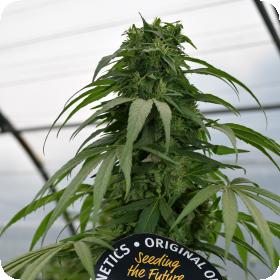 Mandarin Mimosa CBD Feminised Seeds
Mandarin Mimosa CBD is a therapeutic cannabis strain resulting from the crossing of California's most recent star name, Mimosa, with a highly fragrant high-CBD strain of Mandarin.
Intensely aromatic terpene profile will have no-one drooling.
Mimosa Mandarin CBD is 60 percent sativa and can grow to an enormous 4 metres high outside! If the headroom is likely to be a problem indoors, SCRoGging is a must to control its vertical growth.
Flowering will take between 10-12 weeks indoors while outdoor growers from the northern hemisphere will be harvesting by the end of October. Indoor yields may be more than 500 gr/m2.
Its pungent scent is full of mandarin.
THC levels are around 16 percent, nearly matched by 12 percent CBD.
It is no surprise that this strain is recommended for the following diseases: appetite stimulation, chronic pain, depression, insomnia, pain relief and stress.