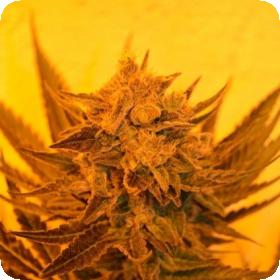 Critical Sour Diesel CBD Feminised Seeds
Critical Sour Diesel CBD is a specially bred medicinal strain that gives high yields and is Sativa dominant. CBD high plants make excellent medicinal strains because the CBD counteracts the THC.
This allows patients to enjoy all of the painkilling aspects of the strain without the mind bending ones. Just like its low CBD sister plant this strain is easy to grow and is ideal for those who are kind of new to the growing game.
The flavour is one of pine with a sour edge to it and just a hint of diesel. It is a combination of Critical Bilbo and Sour Diesel, as one could likely guess by the name. The CBD:THC ratio is about 1:1, both sit at around 10%, giving it a nice, balanced effect.
This is a feminised strain, which means it will only grow into female plants. Feminised seeds were created by Dutch Passion in an attempt to make growing easier for growers.
It inadvertently created a type of strain which is usually higher in quality and uniformity than regular strains. Feminised strains allow growers to cultivate crops without having to deal with the male plants.
The males can waste a lot of time and effort as well as money. Due to their increased quality, some breeders also like to use feminised seeds. However, feminised breeding is difficult and should only be attempted by experienced breeders.
This strain needs just 50 - 60 days to grow and can be grown indoors outdoors or in a greenhouse.
Keep in mind that the cultivation of cannabis is illegal in several countries. Please check the laws of your country before attempting to grow cannabis seeds.
Genetics:
Critical Bilbo x Sour Diesel x Sativa CBD