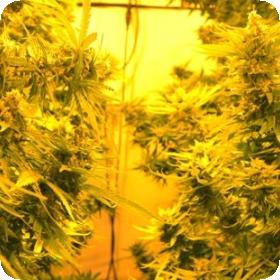 Cheesy Headband Feminised Seeds
Cheesy Headband is, surprisingly enough, a combination of Headband and Cheese. A meeting of American and British strains that produces a high yielding plant with an excellent mixture of their best characteristics. The spaces between the nodes are short and the buds are long and large. The classic Cheese smell is still extremely present in this hybrid along with the delightful power of Headband. It is a robust strain that grows well anywhere due to its mould and mildew resistance. Even for those who aren't the best growers, this strain will give some impressive rewards.
This is a feminised strain, which means that it will only grow into female plants. This is ideal for all the growers out there that are sick to death of male plants. Males are a nuisance to a grower because they do nothing but cause harm. This means that they have to be removed, wasting around half of the seeds. Feminised seeds are also generally of a higher level of quality and uniformity. For these reasons a lot of breeders also go through the rigmarole of feminised breeding. However it is an extremely difficult method of breeding and should only be attempted by experts.
Cheesy Headband will need 63 days to flower and can grow indoors or outdoors.
Keep in mind that the cultivation of cannabis is illegal in several countries. Please check the laws of your country before attempting to grow cannabis seeds.