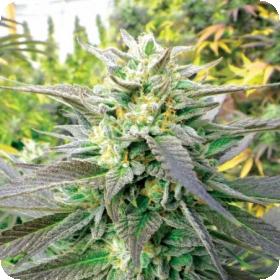 Royal Purple Kush CBD Feminised Seeds
This strain is CBD heavy and so is used as a medicinal strain. The ratio of CBD to THC in this strain is an almost unheard of 3:1, with a CBD level of between 15 - 25%. It is an Indica dominant strain what is a combination of Black Afghani, Bubba Kush and a Sativa CBD strain.
As it matures in colder temperatures it will take on a beautiful purple hue, this can also be accomplished by using cold water. The strain tastes of a combination of earth and fruit with a smell to match. It has a well-balanced effect that improves the ability to sleep and relax.
This makes it perfect for those who are suffering from insomnia, chronic pain and stress.
Royal Purple Kush CBD is a feminised strain, making it easy for growers to cultivate. Feminised seeds were created to save time, money and effort. They also happen to be higher in uniformity and quality than the same strain would be in the form of a regular seed.
Feminised seeds will only grow into female plants, which saves the grower removing all of the male plants in the crop. These seeds can also be used by experienced breeders. It is possible, although quite difficult, to convince a female plant to produce feminised pollen.
This pollen is then used to fertilise another female and the resulting seeds will be feminised.
This strain will grow well indoors and outdoors, it has a flowering time of 56 - 63 days.
Keep in mind that the cultivation of cannabis is illegal in several countries. Please check the laws of your country before attempting to grow cannabis seeds.
Genetics:
Black Afghani x Bubba Kush x Sativa CBD plant