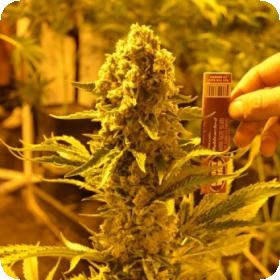 Critical 707 Feminised Seeds
Critical 707 is easy to grow, mould resistant, gives an amazing yield and has a short flowering time. It is a cross between Critical Bilbo and 707 Headband which makes it Sativa dominant.
It has all the delicious fuel taste of Sour D that comes with 707 Headband along with an extremely high THC production of 18%. It also has an extremely low CBD level of just 0.3%, for those looking for a medical strain a CBD version of this strain is also available from Emerald Triangle.
This strain will need a little support during the growing process due to its huge colas and massive yields.
Feminised seeds were created by Dutch Passion originally, who were in search of a more efficient method of growing. Feminised seeds grow into a whole, completely productive crop.
This crop will also be higher in uniformity and quality than a regular crop. They allow growers to cultivate a crop that doesn't need to have half of the seeds removed.
Over all this saves a lot of time, money and effort. Breeders also often use these seeds for their perks, however female breeding is tricky and should only be attempted by experienced breeders.
This strain needs 50 - 60 days to flower and can be grown indoors, outdoors or in a greenhouse.
Keep in mind that the cultivation of cannabis is illegal in several countries. Please check the laws of your country before attempting to grow cannabis seeds.
Genetics:
Critical Bilbo x 707 Headband