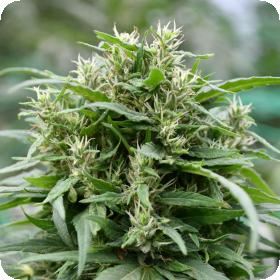 Blueberry Gelato Feminised Seeds
Blueberry Gelato is an indica-dominant (70 per cent) hybrid produced by crossing the Blueberry headband with the finest example of Gelato from the Bay Area.
In particular, Blueberry adds strength and stops heavy buds from snapping branches, while the majority of Cookies-derived strains, of which Gelato is but one, require support/stepping.
The flowering indoors will take between 10-12 weeks with yields in excess of 450 g/m2. Outdoors, the crop will not be ready for harvest until late October in the northern latitudes.
The taste of Blueberry Gelato is extremely fruity and addictive.
The production of THC is 20 percent or higher with a CBD of 0.2 percent.
Therapeutic treatment of symptoms of chronic pain, depression, fatigue, insomnia, pain relief and stress is recommended for this strain.
Genetics:
Blueberry Headband x Bay Gelato