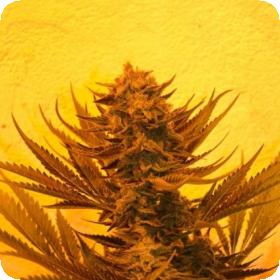 Critical 707 CBD Feminised Seeds
This is a special CBD strain by Emerald Triangle, which is a Critical 707 blend bred with a Sativa CBD strain. It has maintained all of the excellent qualities of the original Critical 707. This includes a fast flowering time, a resistance to mould and extremely high yields. Added to the strain is a high level of CBD, this means that the strain is much more appropriate for medicinal users.
Strains which are lower in THC and higher in CBD have all of the relaxing, pain killing properties of marijuana without the mind altering aspects. This strain has a THC level of 10% and a CBD level of 11% giving it a ratio of 1:1. It has the flavour of fuel with some notes of fresh pine.
Critical 707 CBD is a feminised strain which means it is high quality and extremely uniform. These seeds are used by growers and breeders alike, but usually more by growers. This is purely do to the fact that feminised seeds make growing a lot easier. They remove the issue of the male plants which can cause a lot of problems for growers. They waste space, time and money that would be better used on female plants.
It is also because breeding two female plants is a particularly difficult process, and should only be attempted by very experienced breeders.
This strain needs 45 - 50 days to flower and can be grown indoors, outdoors or in a greenhouse.
Keep in mind that the cultivation of cannabis is illegal in several countries. Please check the laws of your country before attempting to grow cannabis seeds.
Genetics:
Critical Bilbo x 707 Headband x Sativa CBD