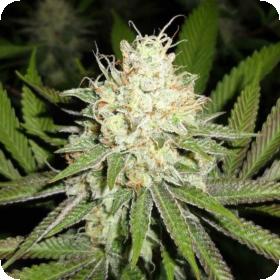 Cherry OG Feminised Seeds
This strain is a result of Cherry Thai being crossed with Afghan and back crossed several times until Emerald Triangle achieved their perfect strain. Cherry OG has all the flavour, the amazing effect and the Sativa dominance of the Cherry Thai. This strain was then crossed with Lost Coast OG in order to increase its potency and to add a touch of sour kick to the sweet flavour. The buds of the plant are medium sized but completely covered in resin. The flavour will vary between phenotypes but the effect always has that delightful, soaring feeling with an uplifting yet relaxing aftermath. Over all this is a seriously impressive strain that deserves a space in any garden.
Cherry OG is a feminised strain, strains are often feminised in order to increase their quality and uniformity. They are also great for growers who don't need the male plants. The males need to be removed before they harm the females, this can be a huge waste of money. Therefore feminised seeds can save people a whole lot of time and other resources that are better used on the female plants. Breeders will also sometimes use two females to breed their own feminised seeds. This is the most difficult method of breeding and should only be attempted by experienced breeders.
This strain needs just 9 - 10 weeks to flower and can be grown indoors or outdoors.
Keep in mind that the cultivation of cannabis is illegal in several countries. Please check the laws of your country before attempting to grow cannabis seeds.
Genetics:
Cherry Thai x Lost Coast OG