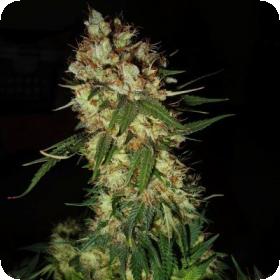 G13 x Blueberry Headband Feminised Seeds
This strain is a combination of G13 and Blueberry Headband, a combination that surpasses all expectations. It's an incredible strain that some how manages to increase the quality of the already amazing Blueberry Headband. This strain is Indica dominant and gives one of the biggest yields around. It is extremely robust and resistant to mould and mildew, meaning that it can grow well in most environments.
It has a delightfully heavy fuel smell and flavour with a delightful undercurrent of sweet berries. Over all this is one seriously impressive strain that deserves pride of place in any garden.
G13 x Blueberry Headband is a feminised strain, this simply means that growers no long have to faff about with male plants. The males can be a complete pain in the bum as well as a total waste of time, money and energy. A regular crop will be around half male and half female, so around half of the seeds bought are wasted. Feminised seeds produce an entirely productive crop of high quality, uniform plants. These seeds are also popular with experienced breeders since the results are so much more impressive than regular breeding.
This strain grows well indoors and outdoors and should be harvested in October.
Keep in mind that the cultivation of cannabis is illegal in several countries. Please check the laws of your country before attempting to grow cannabis seeds.