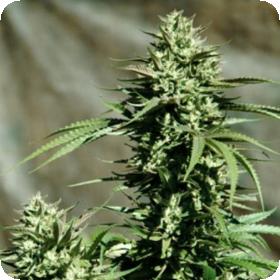 California Wildfire Feminised Seeds
This strain is relatively balanced when it comes to its Sativa/Indica background. It is a classic Cali strain that produces huge, bottle shaped colas. It is an extremely vigorous grower whilst in the vegetative period and will really shoot off as it hits flowering. Due to the size of this plant it is a good idea to have a decent amount of air circulation when growing indoors.
Its flavour is mouthwateringly sour with a hint of earth and powerful citrus notes. It has a pretty high level of THC and is not recommended to casual or novice smokers. The effect is so powerful and cerebral that it could even be called hallucinogenic.
California Wildfire is a feminised strain, ideal for growers. Feminised strains get rid of the messy male plants, which can cause issues for growers during the flowering period. They need to be removed which is a huge waste of time and effort. Feminised seeds are also higher in quality and uniformity than regular strains.
For these reasons a lot of breeders also prefer to use them. However it is difficult to breed female plants together, this means that it should only be attempted by experienced breeders.
This strain needs around 10 - 11 weeks to flower and can either be grown indoors or outdoors.
Keep in mind that the cultivation of cannabis is illegal in several countries. Please check the laws of your country before attempting to grow cannabis seeds.
Genetics:
(NL#5 x Chemdawg #4) x Lost Coast OG