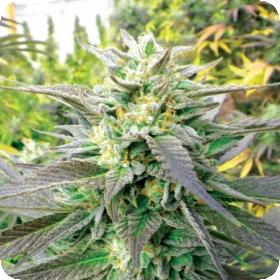 Blueberry Headband CBD Feminised Seeds
This is a high yielding, high quality, highly medicinal strain. Blueberry Headband CBD is a combination of '76 Blueberry, Emerald OG, Pre '98 Bubba, Cali Sour D and a Sativa CBD strain. The CBD to THC ratio is 2:1 which is what makes it such an amazing medicinal strain. The high levels of CBD counteract the THC making it perfect for those who want the pain relief and relaxation without having their brain melted.
This strain is an extremely vigorous grower with huge, fat buds. It is extremely robust and resistant to mould and mildew which makes it perfect for new and experienced growers alike.
Blueberry Headband CBD is a feminised strain, which means that it will only grow into female plants. It also means that the plants will probably be of a better quality and higher uniformity than regular plants. These strains are used by breeders and growers. For breeders it is the improved quality of the plants that is most attractive about feminised strains.
However it comes at a cost, breeding with feminised plants is extremely difficult. For growers they just make life a lot easier by removing the male plants. The males are unnecessary and irritating for growers who have no need for their pollen. Therefore feminised seeds can save a lot of time, money and effort.
This strain has a flowering time of 63 days and grows well indoors or outdoors.
Keep in mind that the cultivation of cannabis is illegal in several countries. Please check the laws of your country before attempting to grow cannabis seeds.
Genetics:
'76 Blueberry X Emerald OG X Cali Sour D X Pre '98 Bubba X Sativa CBD