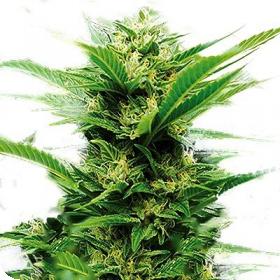 Emerald Jack Feminised Seeds
This strain is a combination of two extremely popular strains, Jack Herer and Emerald OG. The combination makes for an amazingly uplifting and energetic effect that is ideal for those who need a little creative boost. This strain is a vigorous grower that gobbles up nitrogen, calcium and magnesium, so growers should ensure that it has access to these in spades.
Emerald Jack with also benefit from a little trellising support and some staking in order to stop it falling victim to its own weight. It has a tangy, sour taste that will leave mouths watering, with just a hint of tropical fruit. A truly unique and exciting strain that is ideal for all types of growers and breeders, which can be purchased in its feminised form.
Feminised strains are often popular with growers, this is due to the fact that they will grow a single gendered crop. All female crops can save a lot of ball ache for growers everywhere. They allow the grower to keep the entire crop instead of throwing half of it away, they also give the grower a generally higher quality set of plants.
There are a lot of reasons for choosing feminised over regular seeds. Even some breeders use them, however only the very experienced should attempt feminised breeding.
This strain needs 9 - 10 weeks to flower and grows well both indoors and outdoors.
Keep in mind that the cultivation of cannabis is illegal in several countries. Please check the laws of your country before attempting to grow cannabis seeds.