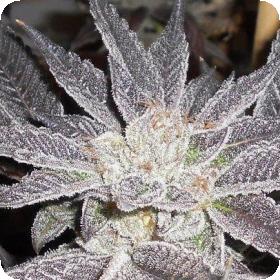 LA Affie is best known as the mother of a number of extremely impressive and legendary strains. Of course she is a legend in her own right as well.
These seeds are selfed which means that they will grow into almost exactly clones of the amazing mother plant. The structure of the plant is relatively short and stocky with extremely broad leaves which supports its impressive bud production.
The flavour and smell of the plant is reminiscent of that delicious hash that has been so popular with users for so many years. Over all LA Affie is truly impressive and has earned her place in even the most discerning grower's garden.
This strain comes in its feminised form which means that it will only grow into female plants. Feminised seeds were first perfected by a seed company called Dutch Passion and since their creation they have exponentially increased in popularity.
There are a number of reasons for buying feminised seeds, primarily they are higher in quality and in uniformity than regular seeds.
Feminised seeds are also extremely popular amongst growers who have no plans to breed their own crops. For these growers the male plants in a regular crop can be a real nuisance.
Regular crops are almost half male and these males have to be separated before the flowering process.
If a grower does not plan on using the male plants for their pollen they are completely useless and should be disposed of as they do not produce flowers in the same way that the females do.
Removing the males is not only a waste of time and of energy but of money. For these growers buying feminised seeds is far more cost effective.
Feminised seeds aren't just for growers, they can also be used by more experienced breeders. These breeders can stress a female into producing feminised pollen which is used in the same way as the male pollen.
This is used to fertilise another choice female plant who will then produce feminised seeds of her own.
This strain can be grown indoors and outdoors making it ideal for all sorts of growers and breeders. It has a flowering time of 55 - 60 days and produces a medium yield.