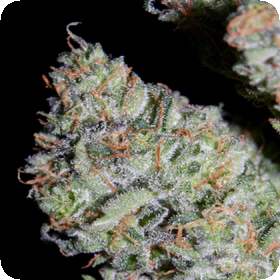 Hubbabubbasmelloscope AUTO Feminised Seeds
Hubbabubbasmelloscope has a very unique name.
In creating Hubbabubbasmelloscope AUTO Feminised Seeds, Mephisto Genetics had a goal to take the great Bubblegum strain, made famous in the 90s and breed it into an autoflowering strain without losing all the unique qualities that made Bubblegum so famous.
Hubbabubbasmelloscope has a flavour that is quite incredible and is very sweet and candy like, which is very familiar to those who enjoy the flavour of the Bubblegum strain.
To create this masterpiece of connoisseur quality, Mephisto Genetics started with a carefully selected cut of the 90s Serious Seeds Bubblegum strain that carried intense bubblegum flavours and crossed it with a White Widow Auto to create Hubbabubbasmelloscope AUTO Feminised Seeds.
The result of this hybridization effort was a slightly sativa dominant strain, with the sativa dominant phenos growing as tall as 1 meter or 3 feet in height. She grows wide and eventually takes a Christmas tree shape, which benefits greatly from Low Stress Training (LST) if space is an issue.
Hubbabubbasmelloscope AUTO Feminised seeds begin to flower at around 2-3 weeks after sprouting and finishes flowering in approximately 10 weeks.
While trichome production is not wasted on fan leaves, the buds themselves are thickly coated in resin and swell to a nice fat size, with yields averaging 60+ grams per plant.
In colder growing environments the buds will turn a nice purplish hue. This strain has also shown a nice resistance to mold.
The effect Hubbabubbasmelloscope AUTO Feminised cannabis has on the user is described as giggly, euphoric and creative and is best utilized in social environments. She likes to be shared with friends!
This femenized version means that the stress associated with regular seeds, where growers must wait to cull the males, is non-existent. She will produce females 99.9% of the time, which means no time or supplies are wasted growing unwanted male plants.