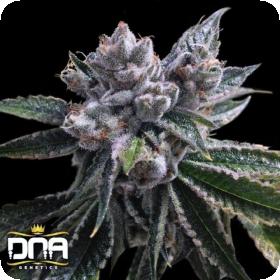 El Fuego AUTO Feminised Seeds
The brand new GYO collection which was designed to preserve DNA's best and brightest genetic material whilst also making them more affordable. El Fuego is the first strain to be launched from this collection and it does not disappoint.
This special strain is bred primarily for its phenomenal resin production. It is Indica dominant and is one of the personal favourite strains of the DNA breeders, this is partially due to how easy the strain is to grow.
This means that it will reward experienced breeders and novices alike. The test phase produced extremely resinous plants which were dripping in trichomes. This strain gets its name from its impressive potency.
It can be used for medicinal purposes such as appetite stimulation, relaxation and general therapeutic reasons. It is a truly unique strain which deserves a place in any garden.
El Fuego is both feminised and autoflowering which partly adds to its easy to grow nature. Feminised seeds will only grow into female plants which are usually of a higher level of quality and uniformity than regular plants.
They are primarily popular amongst growers who have no plans to breed their own crops.
Autoflowering plants are usually stockier, more robust, and will flower at a certain time in their life rather than as a result of a specific light cycle, they make excellent indoor plants.
This strain has a relatively short flowering time of just 8 - 9 weeks.