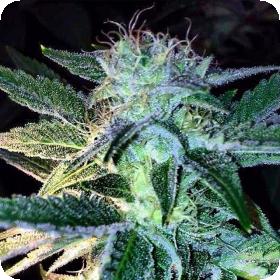 Ghost of Lee Roy Regular Seeds
This strain is a combination of Lee Roy and Ghost OG, awesomely powerful but well-balanced. Ghost of Lee Roy is easy to grow and easy to look after with its excellent leaf ratio, making it very easy to manicure.
This strain isn't just powerful but has a lot of therapeutic uses, especially for those who need relief from pain and insomnia. The flavour is a deliciously sweet mix of lemon and sugar with an enchanting scent to match.
Ghost of Lee Roy is a regular strain and will grow into a roughly even split of male and female plants. It will also require a light cycle, provided by the sun or by grow lights, in order to flower.
Regular strains are still very popular amongst old school growers and breeders, despite the slow rise in auto-flowering and feminised popularity. Most breeders especially find that the easiest and most effective breeding methods are only possible with regular seeds.
Since there are a similar number of males and females they have plenty of choice when it comes to selecting the parents of the next crop. They can use this to improve crop quality whilst weaning out any genetic weaknesses.
This strain can be grown indoors or outdoors and has a flowering time of 60 - 65.
Remember that the cultivation of cannabis seeds is illegal in some countries, please check the laws of your country before attempting to cultivate cannabis seeds.