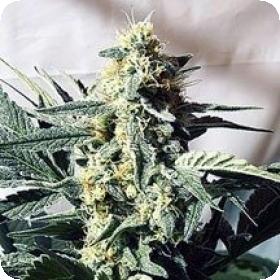 Mr Nice Seedbank's G13 Widow is one of several new hybrids developed in the past decade that has taken cannabinoid levels to some remarkable heights, making this combination an intriguing one to have in your collection.
This particular strain combines Afghan, South Indian and Brazilian into a single strain. The results are said to produce a range from a touch of sativa with an indica type flower, to an indica predominance with remarkably dense bud structure.
This is something a grower would be able to control through considered selection. The aroma, taste, and effects of the finished product, it is said, are the distinctive features of this plant. Of course, these would vary based on the particular phenotype.
That fact that G13 Widow is a regular seed makes it much more versatile than other, feminised seeds, which can be preferable to some of the more old school growers.
While feminised seeds are the easier option for exclusively growing the same strain, as only the female plants are needed, the males are essential if a grower were to create their own crop through breeding.
It is the pollen produced by the males which enables this. It is therefore preferable for many to have the flexibility that regular seeds provide in being able to control all aspects of a crop to a growers ideals.
Grown indoors G13 widow can be grown for a week to 10 days before being flowered. Expected flowering periods, otherwise, are between 7-10 weeks. North hemisphere end of September and in the Southern Hemisphere around early April.
This plant has the potential to stretch a little, but would be expected grow normally in a room of average height. A grower could expect a yield of around 400 - 550 g/m2. This would, however, depend on the selection and how the seed were flowered.