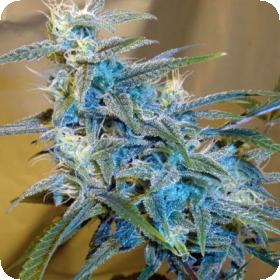 CannaBioGen Sugar Loaf is a vigorous F1 hybrid known for its large trichomes and thick, resinous buds. Its name is a bit of an enigma. It bears no outright explanation but some think that the look of the buds evokes images of a snow-capped mountain.
Some believe it to be named after the ski resort that shares its name, but that is nothing more than theory. Some think it to be a nod to all things sugary since the plants are a real treat for the senses, growers a taste for all the good times that lie ahead.
Sugar Loaf is the cross of a Capricho (a Minali back-cross discovered in Pakistan) with a Columbian. It is a potent indica/sativa that delivers an exceptionally powerful effect that borders on psychedelic.
It yields so well that its lateral branches can sometimes buckle under the weight of all those delicious buds. Even though these are good problems to have, they necessitate a little extra care.
The branches should be tied when they start to show signs of stress so all the buds can be preserved and enjoyed.
The plants are vigorous and need space to thrive. When growing Sugar Loaf indoors, they will require ample horizontal space to deliver light consistently all over.
A 12/12 light cycle is ideal but any growing method along with proper nutrition and care will yield plants that are vibrant and healthy and exceed expectations for flower production.
They mature fully in about 70-75 days. The flowering time may seem a bit long but the rewards are worth the wait. Cured product will store well and retain potency for months or longer when properly stored and kept.
Novice growers will appreciate how easy it is to work with these seeds. They produce very consistently and do not require an over-abundance of care beyond possibly tying some of the branches.
Please remember that the growing of cannabis plants and the cultivation of seeds is illegal in some countries - please check the laws of your country and don't be growing any plants if it is against your country's laws.