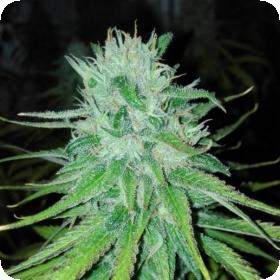 Michoacan Cream Regular Seeds
Michoacan Cream is a combination of Peyote Purple and Michoacan Spirit, the result is a balanced Indica Sativa hybrid. The strain smells strongly of earth, hash, grapes, lavender and incense with a deliciously spicy flavour.
The effect is a powerful yet clear and lucid one that will develop into a creatively relaxing and pleasant state. This strain would usually be used for indoor growing and is ideal for Screen Of Green.
However, it is suggested that growers be careful to prune the plant in order to avoid stretching. This strain should definitely not be harvested too late as this could affect the flavour.
It's best to keep a close eye on the trichomes of the plant in order to decide when it is best to harvest.
This is a regular strain and so is ideal for breeders. Regular seeds can become either male or female plants which means they are the easiest plants to use as parents. The split of the crop is usually roughly even which means there are plenty of mum and dad plants to choose from.
This allows breeders to play around with their strains and remove the negative traits from the crop.
They will also require a specific light cycle or the cycle of the sun in order to flower. Activist groups also use regular strains in attempts to reintroduce cannabis into the wild.
Remember that the cultivation of cannabis seeds is illegal in some countries, please check the laws of your country before attempting to cultivate cannabis seeds.
 
Genetics:
Peyote Purple x Michoacan Spirit