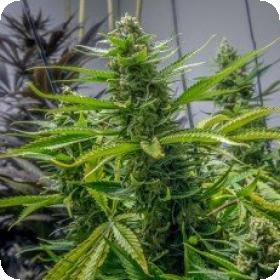 Rosetta Stone Regular Seeds
This strain is an attempt at producing a plant which will give amazing resin production, phenomenal yields, but still excel in flavour and smell. The attempt was successful and even though Rosetta Stone takes a little longer to flower, she is worth the wait. This strain was a combination of Jack Herer and the famous Genius strain.
It has taken on the best traits from each parent meaning that it gives a fantastic yield whilst still smelling of ripe melon. The high is extremely powerful and the smoking experience absolutely fantastic. This is definitely one of those hybrids to watch out for, and definitely one to purchase and put in the garden as soon as possible.
Rosetta Stone is a regular strain which means it will require a specific light cycle in order to flower and will grow into a combination of male and female plants. Breeders tend to prefer to use regular seeds as they provide the easiest method of breeding. Since there is a roughly even split of males and females they have plenty of choice when it comes to selecting the parent plants for the next crop.
This means that they can alter the genetics to suit their preferences. They can also weed out any negative attributes to improve the quality of the crop.
This strain has a flowering time of 8 weeks and can be grown indoors or outdoors.
Remember that the cultivation of cannabis seeds is illegal in some countries, please check the laws of your country before attempting to cultivate cannabis seeds.