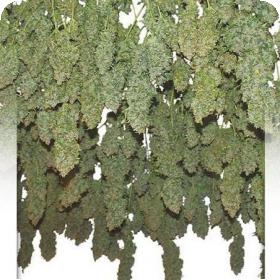 Power Plant Feminised Seeds
Dutch Passion Power Plant is one strain that really lives up to its name. It represents some very impressive South African landrace genetics and is exceptionally stable.
It also has the distinction of having never been hybridised. This is the original and it has stood the test of time.
When cultivating indoors, it may take a bit of time for Power Plant to flower, but once it does it mature quickly. Methods like ScrOG and SOG coupled with the right pruning techniques will drastically increase overall yield and improve the quality of the end product.
These plants like things to be in balance. Growing outdoors should take place in mid-to-late Summer with final harvest in late October to ensure a balanced lighting cycle. Be careful not to bombard Power Plant with nutrients either.
Again, balance is key. Indoor growers should be prepared to give these plants some space. They have a tendency to stretch and should be allowed to do so.
Cultivation is virtually effortless owing to the fact that these seeds are feminised. The absence of male chromosomes leaves plenty of room for ample flower production and numerous healthy buds.
Feminised seeds are also a great choice for inexperienced growers for their ease of handling.
eterans that are looking for a high-quality, low maintenance strain that will provide excellent return on investment in terms of both growing cost and time should most definitely consider growing Power Plant. It will not disappoint.
The effect of Power Plant is as its name suggests: it delivers a one-two punch with a clean, sharp flavour and aroma. This is a pure sativa high so it leaves the user feeling uplifted, creative and sociable, but it is strong enough to impede productivity.
It is the perfect party strain for when one just wants to relax and pass one around.
Please remember that the growing of cannabis plants and the cultivation of seeds is illegal in some countries - please check the laws of your country and don't be growing any plants if it is against your country's laws.