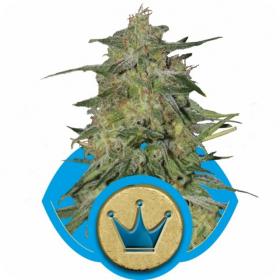 Royal Highness Feminised Seeds
Royal Queen Seeds Royal Highness feminised seeds is well known for its medicinal properties as contains almost equal amounts of THC and CBD, and has been said to relieve pain and anxiety as well as have anti-spasmodic and anti-inflammatory qualities.
It was created through a combination of a strain known as Respect, which is a Cannalope Haze and Juanita la Lagrimosa mixture, and Dance Hall and even though it grows like an Indica it has many Sativa-like attributes.
It is suitable for indoor growing as well as outdoor growing in warmer climates and will grow to between 80 and 110 cm in height. After a flowering period of 8-9 weeks it will produce a rather impressive yield of approximately 110-125gr per plant.
Royal Highness also has the added benefit, like all of Royal Queen Seeds strains, of being feminised. With regular seeds in all likelihood half of the seeds will be male, although sometimes this can vary in favour of the females, but in reality the males are not the gender which are useful for growing purposes.
If a grower uses feminised seeds it means that there is a 99.99% chance that all of the seeds will be female and thus a grower would not waste time and space on the unnecessary males.
This means that there will be more room for the females and consequently the largest yield possible will be produced. Feminised seeds are also far more cost-effective as a grower does not need to buy twice the number of seeds than what is needed simply to ensure the correct number of females.
The males only use is really for the production of pollen which is needed for reproduction. Even so, if a grower wishes to breed their own crop there is a process in which the females can be triggered into producing this pollen.
In spite of this it should be made clear that, although if successful the future crop will be of superior quality, it is not an easy task to undertake.