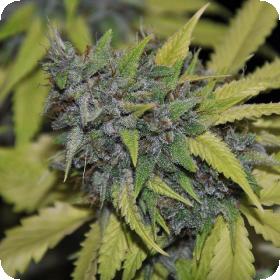 Grandaddy Confidential Feminised Seeds
Grandaddy Confidential is a combination of LA Confidential and Ken's Grandaddy Purple. It is indica dominant and goes a lovely purple colour as it matures.
This classicly mixed strain is ideal for those who want something pretty and hard hitting. Its effect is a powerful couch lock that relaxes the entire body, a great evening strain.
The buds are beautiful and covered in crystal resin.
This strain is feminised which means that it will only grow into female plants. Feminised seeds are ideal for growers, who usually have no use for the male plants.
Regular crops will be made up of around half male and half female plants, and the male plants have to be removed before they can harm the females.
This is a huge waste of time, money and energy that would be better spent on caring for the female plants.
Feminised seeds also tend to be higher in quality and uniformity, which is why some breeders also prefer to use them despite the increased difficulty in breeding.
This strain has a flowering time of 63 – 70 days and can be grown indoors or outdoors.