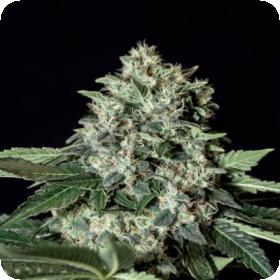 Gorila Bilbo Feminised Seeds
Gorila Bilbo is the strain known as Gorilla Glue #4, which is more commonly abbreviated to GG4 these days.
Genethik has worked on it with regard to breeding selection and the result is a medium to large plant, which has a strong indica dominance and produces very high amounts of resin making it eminently suitable for extraction.
It was originally a serendipitous cross between Sour Dubb, Chem Sister and Chocolat Diesel, a very accidental accident. It is a very simple strain to grow as long as the EC level is kept at a moderate level in the hydro and the fertiliser is used judiciously in other media.
It is very vigorous, producing very dense buds that are extremely resistant to fungal infections.
Indoors flowering takes 9 weeks to produce between 500-600 gr/m2. Outdoor Northern Hemisphere harvests are ready during October, with each plant capable of delivering 1000-1300 gr.
Flavors are earthy, acidic/citric and their sticky buds contain THC levels of up to 25%! The effect is very potent resulting in an indica-type high which although extremely relaxing, is recommended only for the experienced "cannasseur."
Genetics:
Sour Dubb x Chem Sister x Chocolate Diesel